Skip to Content
Moderate Dental Sedation in East Brunswick
From laughing gas during a filling to deeper techniques during root canals or dental implants, sedation is a common feature in dental services. But what you may not have known is that dental sedation can help with any procedure. Whether you have physical, mental or emotional concerns, moderate sedation can make your next dental visit a much more pleasant experience.
What Is Moderate Dental Sedation?
Moderate sedation is a type of conscious sedation, a technique that slightly depresses your central nervous system to slow down your brain activity. Unlike general anesthesia, moderate sedation leaves you awake but relaxed and carefree. While you may not remember the details of your procedure, you'll be able to understand and respond to verbal communication. You'll also experience a blunted sense of pain and anxiety.
Who Can Benefit From Moderate Dental Sedation?
People with dental anxiety are one of the largest groups who can benefit from moderate sedation — about 36% of the U.S. population experience dental anxiety, and 12% categorize their anxiety as extreme. This fear can lead to delayed or skipped appointments, leading to higher rates of tooth loss and decay. Moderate sedation can help ease that anxiety and make dental visits more comfortable.
However, this technique is beneficial for more than just anxiety. You may want to consider moderate sedation if you:
Have a sensitive gag reflex.
Have a fear of needles.
Experience little relief from local anesthesia.
Have extremely sensitive teeth.
Find it challenging to sit still or experience claustrophobia in the dental chair.
Feel uncomfortable getting dental impressions or X-rays.
Have special cognitive, physical or behavioral needs.
Plan to have a complicated procedure or several treatments in a single appointment.
What to Expect With Moderate Dental Sedation
If you're new to sedation dental services, we've collected some explanations and advice below to help you understand what to expect and how you can prepare.
Before the Procedure: How to Prepare
Your first appointment with moderate sedation will start with a conversation and evaluation. The dentist will review your medical history, including your current medications and any allergies or sensitivities. They'll also perform a physical examination to establish a baseline for your vital signs and determine if they'll need to provide oxygen while you're under sedation.
As the patient, planning and preparation are the keys to making your appointment a pleasant experience. Here are some steps you'll want to take ahead of time:
Start with an empty stomach: While many people experience a pleasant floating sensation under moderate sedation, it can lead to queasiness if you have anything in your stomach. Avoid eating after midnight the night before to keep your stomach settled.
Pre-hydrate: It's crucial to stay hydrated for your appointment. You can drink clear fluids up to two hours before your appointment.
Dress comfortably: Dress for comfort with loose-fitting clothing and flats, sneakers or other low-heeled shoes.
Arrange a ride home: You won't be able to drive after your appointment, so make sure you have someone to take you home.
What Will Happen During the Procedure?
Dentists often prescribe oral sedatives for moderate sedation, usually a benzodiazepine like diazepam, triazolam or midazolam. The effects typically last between two and eight hours, and you'll take your pills about an hour before your procedure. You'll be comfortably seated in the dentist's chair by the time the sedative takes effect. As it does, you'll feel relaxed, calm and carefree.
Once you're fully sedated, the dentist will begin your procedure. The sedation will last throughout your procedure, so you won't need to worry about a thing. They'll continuously monitor your vitals like breathing, pulse rate and blood pressure to ensure you're handling the sedative well.
While you'll be awake and aware throughout the procedure, you won't feel any pain or discomfort. The dentist or a trained clinical staff member will stay with you until you recover enough to go home.
After the Procedure: What to Expect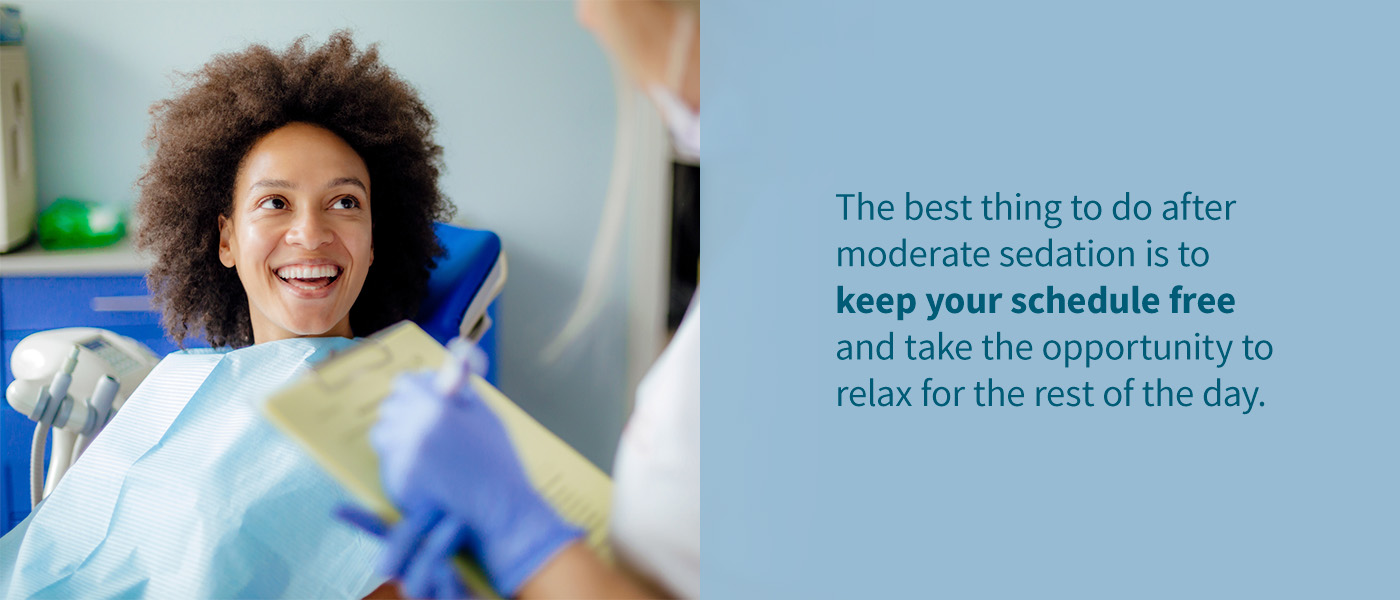 You may still feel the sedative's effects for several hours, depending on the strength of your dose and the length of your appointment. You're likely to experience slowed reflexes, drowsiness and low blood pressure.
The best thing to do after moderate sedation is to keep your schedule free and take the opportunity to relax for the rest of the day. Here are a few guidelines to follow as you recover:
Keep your head elevated: You can guard against faintness from low blood pressure by keeping your seat reclined on the ride home. You'll want to lie down a while once you're there, too — but be sure to keep your head propped up.
Don't drive: Your reaction time will be slower than usual, so wait at least 24 hours before you drive or operate any other heavy or complicated machinery.
Delegate responsibility: Avoid activities requiring sustained attention, like cooking or childcare.
Avoid alcohol: Mixing sedatives with other substances can be extremely dangerous, so avoid alcohol and any recreational drugs for at least 24 hours.
Experience a Painless Dentist Visit With Moderate Dental Sedation in East Brunswick
If you're ready to see if moderate sedation is right for you, come see Dr. Nahel Yanni at Nahel Yanni, D.D.S. Family & Cosmetic Dentistry. With over 25 years of education and experience, he has the expertise to offer a range of services you won't find at any other dentist in the area.
If you have dental anxiety, Dr. Nahel Yanni with talk with you about your options and perform an examination to see if you're a candidate for dental sedation. He'll walk you through our process for sedation dental services so you'll know what to expect, explain the risks and recommend a course of action. Dr. Nahel Yanni's mission is to provide the best treatment for each patient. He'll work with you and encourage your questions or concerns.
Sedation Dentistry Frequently Asked Questions
Take a look at these frequently asked questions for more answers about how sedation dentistry works.
1. What Level of Sedation Should I Choose?
During your consultation, you'll work with your dentist to determine your best option based on the treatment, your anxiety level and your medical history.
2. Are There Side Effects?
While any sedation comes with potential side effects, those from sedation dentistry are typically mild. You may experience the following:
Headache
Dry mouth
Grogginess
Low blood pressure
Slow reflexes
Brief amnesia
3. When Should I Contact a Health Care Professional?
You should contact your dentist if you develop any of the following symptoms:
Vomiting
Nausea
A fever higher than 101 degrees Fahrenheit
4. Is Sedation Dentistry Safe for Children?
Sedation dentistry is absolutely safe for children. Safety is our top concern, and we monitor all our patients closely during their treatments. Children can also bring a stuffed animal or blanket for extra comfort during their procedures.
5. Can I Drive After My Appointment?
If you're receiving deep or moderate sedation, you shouldn't drive for at least 24 hours after your treatment. Arrange to have someone else take you home, and avoid driving until the sedative is completely out of your system.
6. Who Can Perform Sedation Dentistry?
The New Jersey State Board of Dentistry regulations require at least 40 hours of training to obtain a conscious sedation permit. To renew this permit, a dentist must complete at least 20 hours of continuing education courses every two years.
Schedule Your Appointment Today
Dr. Nahel Yanni and the staff at Nahel Yanni, D.D.S. Family & Cosmetic Dentistry are committed to giving you a relaxing, pain-free dental experience. If you want to see if moderate dental sedation is right for you, we're here to help.
We're a one-stop shop for all your dental service needs, from dental exams and cleanings to restorations and migraine treatments. Ready to learn more? Call us at 732-254-0033 or schedule an appointment online today!