Skip to Content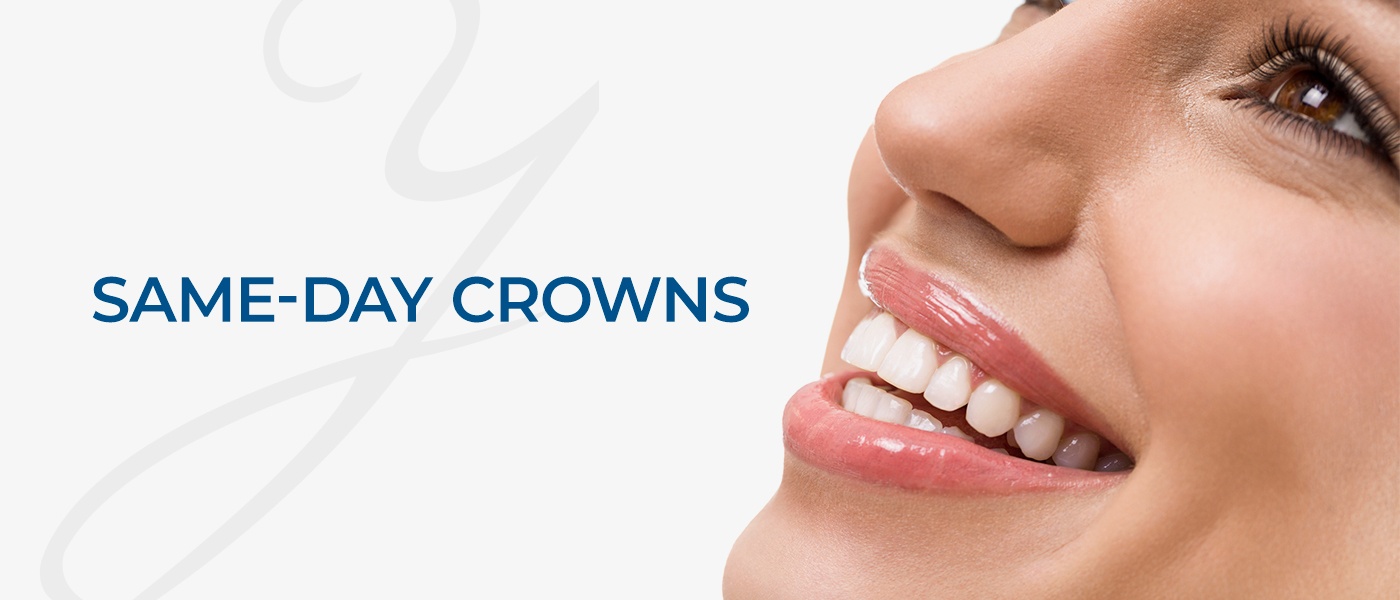 Dental crowns are an essential part of oral hygiene and good dental health. When your dentist drills a tooth, performs a root canal or installs specific dental hardware, crowns are the answer to protect your teeth and give you a better-looking smile. Chipped or damaged teeth also need crowns to protect them from further harm and help in the healing process. Many people even get dental crowns for simple aesthetic enhancements like smile correction or bite improvement.
If you need a dental crown for a damaged tooth or to replace a broken or missing crown, time is of the essence. If you wait too long to get your crown, you could suffer more tooth damage and an increased risk of tooth decay. A new type of dental crown service has hit the market that could be perfect for your time-sensitive dental needs: same-day crowns.
Same-Day Crowns in East Brunswick
If you've received traditional crowns before, you know it can be a long process. You may need to visit your dentist at least two times to get your crowns. There could be a gap of several weeks between those visits while you wait for your custom crown to be ready. That can be a problem if your exposed, damaged tooth is causing you discomfort. If you're worried about waiting that long to get your new crowns, you should consider same-day crowns in East Brunswick, N.J.
This new technology has only recently caught the public's attention. It changes the way patients approach their dental care, specifically dental crowns. Before, getting dental crowns was a commitment and a hassle. Now, it can be easier than ever with the tech used in same-day dental crowns. If you're interested, make sure you choose a dentist who can use same-day crown technology to provide the fantastic results you deserve.
Dr. Nahel Yanni, D.D.S., is the answer to all your dental crown needs in East Brunswick. He has a degree in progressive orthodontics, making him a dentist you can trust with the new technology of same-day crowns. He always focuses on what's best for the patient, so you feel comfortable during your visit. And, he is one of the only dentists to offer sedation dentistry in the East Brunswick area, so you can get the same-day crown you need without any anxiety.
You can feel confident getting same-day crowns from Dr. Nahel Yanni. But it's essential to understand what this process entails before choosing for yourself. It's a bit different than the traditional crowns you might be familiar with.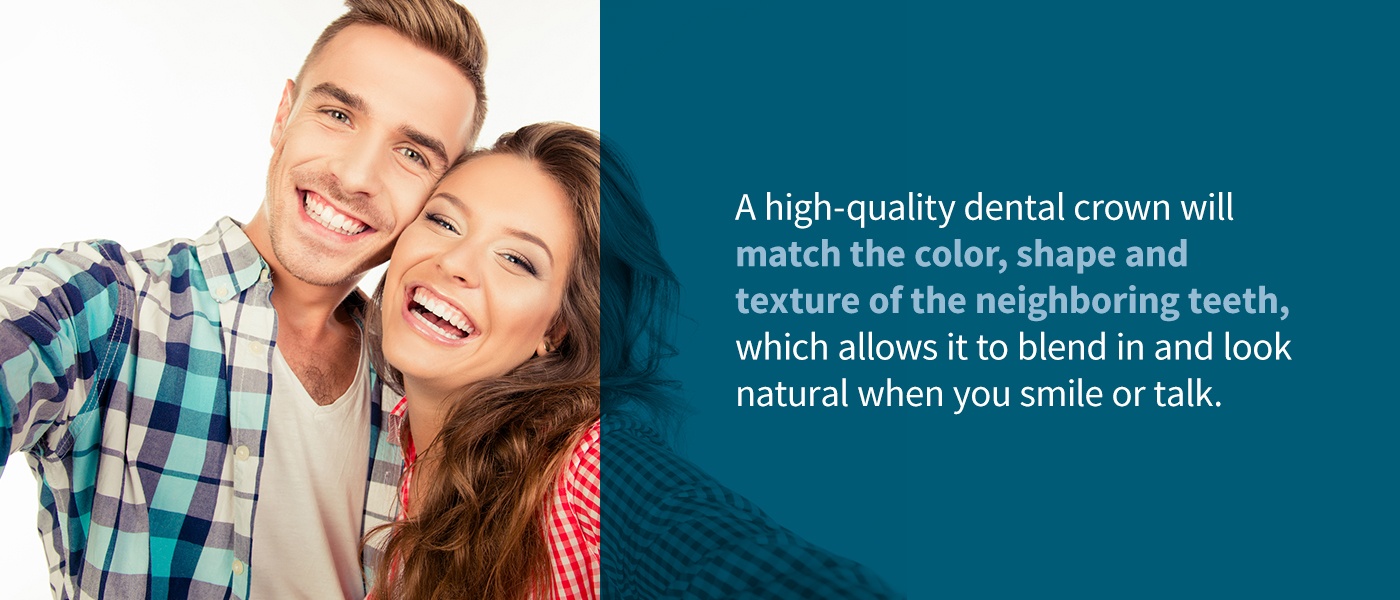 How Do Same-Day Crowns Work?
A same-day crown gives you the benefits of a traditional porcelain crown without the weeks-long wait. In most cases, a same-day dental crown appointment lasts about an hour. That represents an incredible reduction in wait time and ensures your tooth gets the protection it needs at the earliest possible moment. This innovation is thanks to CEREC, a machine developed to change the way patients and dentists think about dental crowns. We'll take a closer look at CEREC technology in a later section.
Once Dr. Nahel Yanni creates your custom dental crown, he can apply it to your tooth. If you've never gotten a dental crown before, there are a few things you should know. A high-quality dental crown will match the color, shape and texture of the neighboring teeth, which allows it to blend in and look natural when you smile or talk. That's especially essential if you need a crown for one of your front teeth, which are more visible than your molars.
Some patients worry about how a crown will feel in their mouth once their dentist attaches it. That's why Dr. Nahel Yanni ensures every patient is comfortable in their new crowns before he cements them into place. Even if your same-day crown feels a bit off after its creation, your dentist can adjust and alter the fit until it's perfect. That way, you can feel as good as you look with your new crown.
You can even use same-day crowns to protect your dental fillings. Fillings can sustain damage over time from daily activities like eating, especially with harder foods. If a filling falls out, you can experience an increased risk of cavities, tooth sensitivity and tooth decay. Dr. Nahel Yanni can put a crown over your filling to keep it safe and healthy, but the process may involve removing some of your natural tooth material. Remember, he offers sedation dentistry to make processes like these more comfortable.
How Long Do Same-Day Crowns Last?
Since the same-day crown process is so fast, you may be wondering how their quality compares to traditional, lab-fabricated crowns. Despite the process' speed, same-day dental crowns maintain a nearly identical level of quality as traditional crowns. That means they can last anywhere from five to 10 years, but this number varies depending on several factors. Variables affecting your same-day dental crowns' lifespan include the following:
The dentist's skill level in carrying out the procedure.
The quality of the ceramic or porcelain used for the crown.
The bonding technique used to attach the crown to your tooth.
The crown's placement and how it sits within your bite.
The above factors may be out of your control, but you can rely on Dr. Nahel Yanni for quality performance, materials and results every step of the way. After receiving your same-day crown, you can do some things to ensure you get the most out of it.
Be careful what you eat: Avoid eating crunchy foods that could damage your new crown. If you eat hard foods, be careful and try chewing them on the opposite side of the mouth. After your new crown has had time to bond with your tooth, you should be safe to carefully eat your favorite things.
Wear a mouthguard: You should always protect your teeth with a mouthguard while playing contact sports, especially after getting a new crown. Protecting it ensures that it has time to fuse to your tooth for long-lasting results.
Practice good dental hygiene: Having good dental hygiene can fend off a multitude of oral health problems. After getting a new crown, maintain your brushing and flossing routine to keep your crown clean and contribute to its longer lifespan.
Keep in touch: Dr. Nahel Yanni may recommend a follow-up consultation to ensure everything is going well with your new same-day crown. Keep this appointment to learn more about your progress and your new crown's health.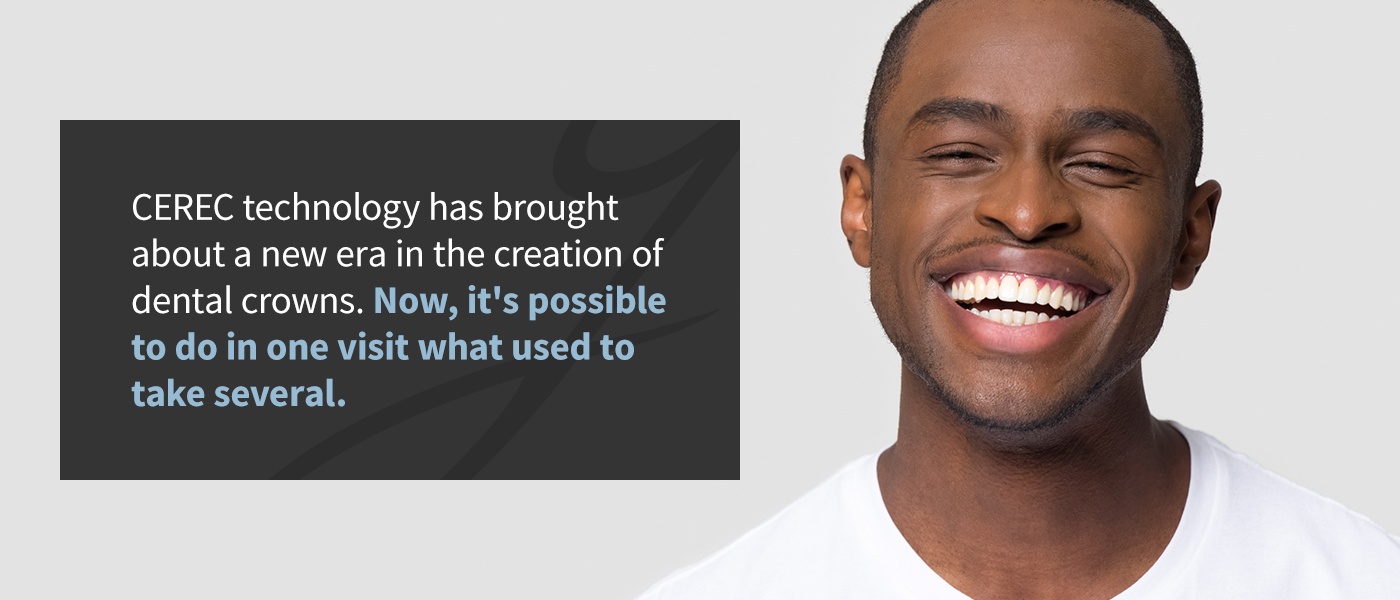 Making Same-Day Crowns
Dr. Nahel Yanni creates custom dental crowns in less than two hours with the help of a CEREC machine. CEREC technology has brought about a new era in the creation of dental crowns. Now, it's possible to do in one visit what used to take several. Dental technicians craft traditional crowns in a laboratory, but Dr. Nahel Yanni can create a same-day CEREC crown in his dental practice building. It is the ultimate combination of convenience and quality for dental crown patients.
The process of crafting same-day crowns uses computer-aided design and computer-aided manufacturing (CAD/CAM). Traditional crowns rely on impression putty to create a mold of your teeth. Dental technicians then use this mold to fabricate your new crown. This method has been the tried-and-true approach for decades, but it leaves room for human error. CEREC machines' CAD/CAM technology allows dentists to create crowns that may be even more comfortable and accurate than traditional dental crowns. These four primary components make this possible:
A small, pen-sized camera
A computer
Special software to design the patient's new crown
A machine to mill the crown from a solid block of ceramic, porcelain or other material
Once Dr. Nahel Yanni is ready to start the process, here's what happens:
He will use a pen-sized camera to scan your damaged tooth and the surrounding teeth. Then, you can relax in the waiting area and wait for your finished crown.
The computer will create a three-dimensional image of the teeth based on what the camera captured.
With the software's help, Dr. Nahel Yanni will design your crown to fit the precise computer-generated measurements. These include every minute detail, including ridges, fissures, pits and indentations.
After completing the design, CEREC's milling machine will carve a replica of the computerized design from a solid block of the chosen material, usually porcelain or ceramic. It should only take the milling machine a few minutes to create the perfect crown for your tooth.
At this point, you'll reenter the operating room to have your new crown attached to your tooth. Many times, the CEREC-generated crown is so accurate that you won't need much adjusting for it to feel comfortable in your mouth. CEREC is an expensive piece of technology, but it's worth the high cost because it delivers accurate results that provide patients with quality dental crowns in a single visit.
CEREC's CAD/CAM technology opens new possibilities for patients who need adjacent crowns. This task is tricky for dental technicians creating crowns the traditional way. With CEREC's crown-designing software, Dr. Nahel Yanni can create crowns that fit comfortably next to your natural teeth. It's all possible thanks to the high level of detail the camera captures, plus the software's intuitive process. As this technology advances, more opportunities could arise for patients who need detailed crown work in a single day.
How Do Same-Day Crowns Compare to Traditional Crowns?
Same-day and traditional crowns provide ways to protect your damaged teeth and return your smile to the confident, vibrant one you once knew. But they both take different paths in accomplishing this task. In the end, it comes down to which you prefer as the solution to your dental crown needs. When deciding, consider the following differences between the two services.
The number of visits: You'll need to visit your dentist at least twice to get traditional crowns. Same-day crowns only take one brief visit to complete the process.
The waiting period: There is a waiting period of two or more weeks for conventional crowns' completion. You'll need temporary crowns to hold you over until you receive your permanent ones. When you choose same-day crowns, you can receive yours in two hours or less. That means you won't have to experience the hassle of temporary crowns.
The method: Your dentist provides you with traditional crowns by first taking a putty impression of your teeth. They then send this mold to a dental lab so technicians can create your new crowns. If you choose same-day crowns, your dentist will use CEREC CAD/CAM technology to create a computerized model of your teeth. They'll use that software to design your new crowns so the CEREC milling machine can create them.
The materials: Dental technicians can make traditional crowns out of several materials. These include porcelain, ceramic, durable metals like gold or a combination of all three. The most common material for same-day crowns is ceramic, but Dr. Nahel Yanni offers porcelain same-day crowns as well.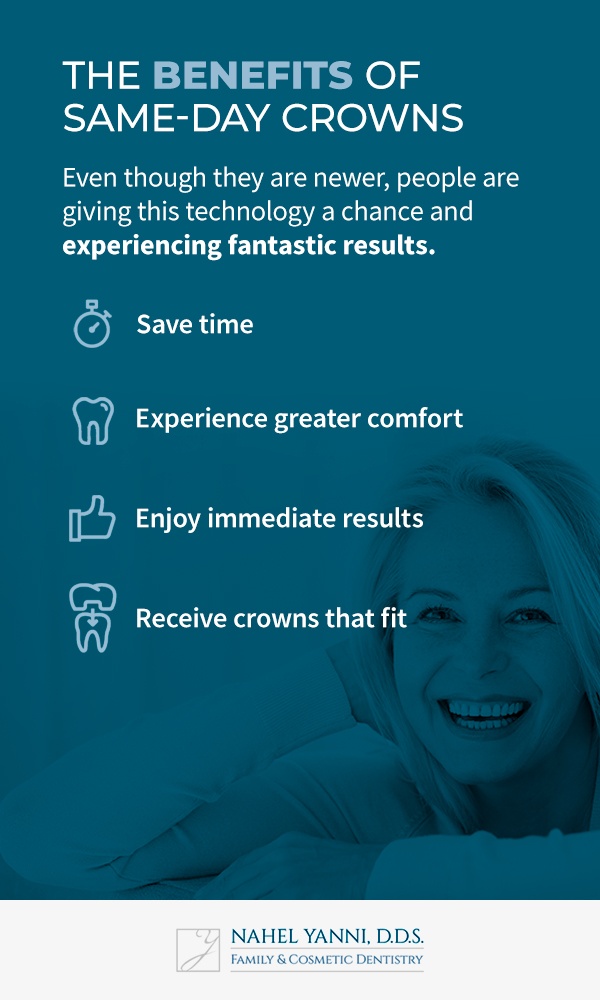 The Benefits of Same-Day Crowns
Same-day crowns' many benefits make them a popular option in the dental world today. Even though they are newer, people are giving this technology a chance and experiencing fantastic results. Here are some advantages of same-day crowns that could make them the top option for you.
Save time: With same-day crowns, you can take off less time from work. That means more money in your pocket for a result that should only take a couple of hours out of your day.
Experience greater comfort: With same-day crowns, you get to avoid some minor discomfort associated with traditional crowns, including taking an impression of your teeth.
Enjoy immediate results: Skip the temporary crowns when you choose same-day crowns. You'll be smiling with confidence and eating the foods you love with little inconvenience.
Receive crowns that fit: Thanks to CAD/CAM technology, same-day crowns are accurate and give you a product that may fit without any adjustments. You get to walk out of the dental office with your new, permanent crowns in one visit.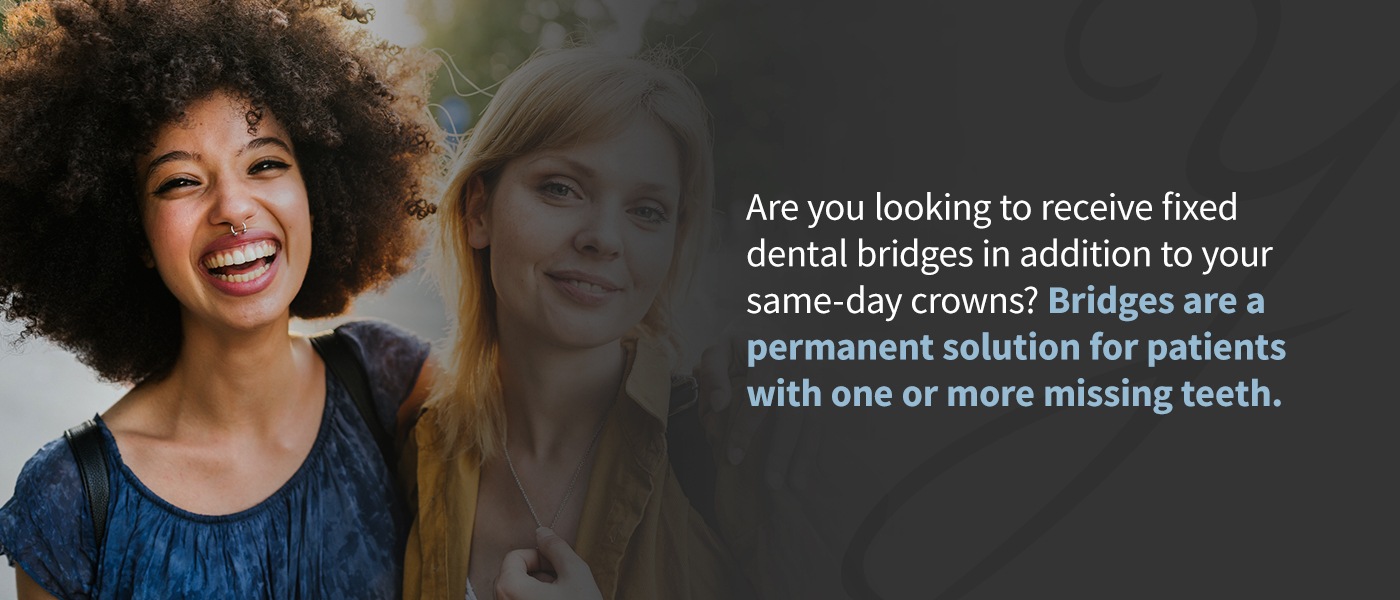 Same-Day Bridges
Are you looking to receive fixed dental bridges in addition to your same-day crowns? Bridges are a permanent solution for patients with one or more missing teeth. The process involves creating two crowns that cover the teeth on either side of the gap. These crowns attach to artificial teeth that fill in the space, creating the look of natural teeth. Here's how permanent bridges from Dr. Nahel Yanni can benefit you.
Prevent your teeth from shifting: Your teeth are prone to shifting if you have gaps in your teeth. A dental bridge will fill this space to keep your teeth from moving, which is especially crucial if you want to protect your straight teeth after receiving previous orthodontic treatment.
Maintain your facial shape: Tooth gaps can cause facial changes from sunken cheeks and lips. Bridges will fill these spaces to maintain your facial shape.
Return to your normal speaking and chewing habits: If you've noticed gaps in your teeth are affecting your speaking and chewing abilities, you should get fixed dental bridges. Bridges can restore your speaking and eating habits to what they were before you had missing teeth.
Smile with confidence: Some people hide their smiles if they have missing teeth. You can smile with confidence again after receiving fixed bridges from Dr. Nahel Yanni.
Enjoy a permanent solution: Removable partial dentures can be cumbersome. Fixed bridges are a permanent upgrade over other removable options.
You'd normally have to wait several weeks to receive your fixed bridges. Now, you can enjoy the above benefits in a single visit with same-day bridges from Dr. Nahel Yanni. If you want all the positive results of fixed bridges with the benefits of same-day services, ask Dr. Nahel Yanni about scheduling a same-day fixed bridge appointment.
Same-Day Crowns FAQs
With the above information in mind, here are some common questions patients and prospective patients may have about same-day crowns to help you decide if the procedure is right for you.
Are Same-Day Crowns as Good as Lab Crowns?
Same-day crowns are an excellent alternative to lab crowns. Lab crowns are the traditional type of permanent crown, which take a couple of weeks to get after the initial tooth casting because the cast gets sent to a lab for the crown creation. While waiting for the lab to make your crown, you must wear a temporary one to ensure your exposed tooth stays in good condition. If not careful during the waiting period, temporary crowns can break or fall off, leading to more visits.
When you get a same-day crown, the entire process happens in one day at the dental office. You won't have physical molds created but instead, you'll have digital ones the dentist makes before creating the permanent crown. Same-day crowns provide the same service that lab crowns do, but at a faster rate.
Whether you get a same-day or lab crown depends on your needs and what your dentist thinks is best. However, same-day crowns do hold up for a while and look natural. In most cases, a same-day crown will satisfy patients and work just as well as a lab crown.
How Long Does a Same-Day Crown Take?
A same-day crown takes as little as an hour to create. During your dentist appointment, your dentist will take digital casts of your tooth and use advanced technology to make the crown in-office. You can be out of the office in less than two hours when you get a same-day crown made and installed, depending on how many teeth you need crowns for and other factors.
Can I Get a Root Canal and Crown on the Same Day?
If your dentist is experienced and capable of doing so, you could receive a root canal and crown on the same day. With the root canal process removing the damaged or infected pulp, sometimes an individual needs more than a filling to protect the tooth. A crown on the tooth helps protect it from further decay, damage or injury.
Another benefit of getting a root canal and crown on the same day is that it saves you time because you don't have to return for another appointment. Getting them done together also helps protect your teeth with a permanent crown instead of a temporary one as soon as possible, rather than leaving any time between completing a root canal and crown procedure.
What Are Same-Day Crowns Made of?
Same-day crowns can be made out of porcelain, ceramic, a durable metal — such as gold — or a combination of materials, depending on the type of technology and system your dentist uses at the office. Dr. Nahel Yanni offers porcelain and ceramic same-day crowns, so you get one that suits your needs and preferences.
Same-Day Crowns and Bridges in East Brunswick, N.J.
Choose Dr. Nahel Yanni if you're ready to experience the benefits of same-day crowns. He began his dental career in 1994 and has provided high-quality service in Egypt, California and his current location of East Brunswick, N.J. Ongoing education is valuable to him — he received the Associate Fellowship of American Academy of Dentistry in 2011. This commitment to continual learning has enabled him to adopt CEREC technology to provide the best same-day crowns in the area.
Contact Dr. Nahel Yanni today to learn more and schedule your same-day dental crown or fixed bridge appointment. We look forward to serving you.