Skip to Content
GET PERMANENT DENTURES IN NEW JERSEY THAT FEEL LIKE YOUR OWN
Are you tired of your dentures moving around in your mouth? Are you sick of applying denture adhesive at least once per day? Do your dentures slip when you speak? Does food get under your dentures when you eat? Are you sick and tired of dealing with sore gums?
If you answered yes to one or more of the questions above, you owe it to yourself to find out more about implant-supported dentures.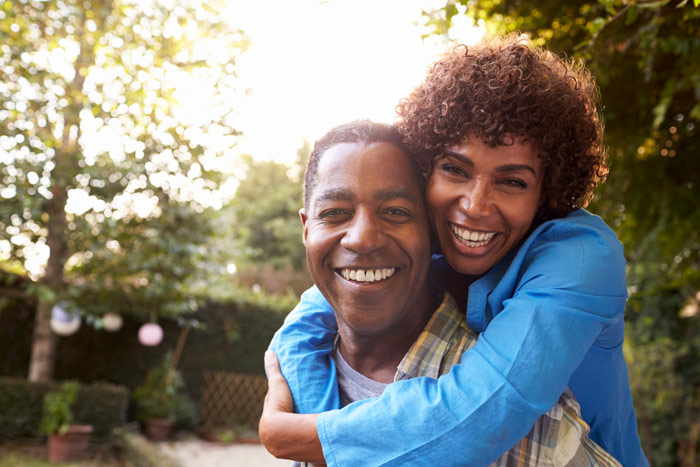 TEMPORARY SAME-DAY DENTURES VS. PERMANENT DENTURES
Dentures that slip, slide, and pop out can be a thing of the past with a new set of permanent dentures. While traditional dentures rely on suction, adhesive, and clips to help keep them in place, permanent dentures can be attached using methods that work all the time and won't fail like adhesives sometimes do. Permanently cemented dentures eliminate the difficulties of learning how to chew and speak because they are attached inside your mouth much like your real teeth are.
Permanent dentures provide the best option for the following reasons:
Highest quality: Polymethyl methacrylate resin in permanent dentures is highly durable for long-lasting use.
Accurate shaping: Designing dentures after gums heal creates the most precise shaping for comfortable wear.
Aesthetic results: High-quality permanent dentures produce the most lifelike, natural appearance.
Traditional dentures provide an alternative to permeant dentures with these traits:
Thick and bulky: Patients often receive temporary dentures before teeth removal or during healing. These provide some guesswork for mouth shapes and possibly require a relining process after delivery to improve the fit.
Short timeline: Most people wear temporary dentures for about six months to a year, depending on healing time, age, the number of teeth removed before dentures and general health.
Removable: Traditional dentures, often called day dentures, aren't worn while sleeping and have a learning curve for speaking and eating.
IMPLANT DENTURES IN EAST BRUNSWICK, NEW JERSEY
Implant dentures are suitable whether you only need permanent top dentures or even just a few teeth. The process involves surgically implanting titanium rods directly into the bone under your gums. Benefits from this treatment include:
Accurate positioning: The rods will be positioned according to the shape and location of your new denture.
Long-lasting results: When your gums have completely healed, the new dentures can be permanently cemented to the exposed roots.
Excellent look and feel: The result is dentures that look wonderful and feel so natural that no one will suspect you're wearing them.
Customized treatment: Unlike the limited span of bridges for anchoring teeth, dental implants replace a tooth or teeth in any configuration for the perfect look.
For more information about permanent dentures cost, details or any of the other treatments, our East Brunswick dentist offers, feel free to give us a call. Dr. Nahel Yanni and his staff would love to help make your smile even better.
WHY CHOOSE NAHEL YANNI FAMILY DENTISTRY?
Find superior dental treatments in East Brunswick and surrounding New Jersey cities with Dr. Nahel Yanni. His extensive dental training includes an associate Fellowship from the American Academy of Implant Dentistry and the NYU Maxi course in Implantology. He also includes affiliations with the American Academy of Implant Dentistry and the American Dental Association.
For denture implants from the most knowledgeable and reputable dentistry in New Jersey, schedule your dental visits with Nahel Yanni Family Dentistry.
FAQS ABOUT PERMANENT DENTURES IN NEW JERSEY
Prepare for your dental appointment and learn about permanent dentures through common questions and answers:
What is the average cost of dentures? Denture fees vary widely based on each patient's customized treatment and timeline. The best way to determine the price involves visiting Dr. Nahel Yanni for an accurate estimate.
How do I care for my dentures? For maintenance and denture care, the American Dental Association suggests cleaning dentures daily with nonabrasive cleansers and replacing dentures as evaluated by dental professionals.
Can I eat normally with dentures? You can eat any foods you want due to the attached implants' superior performance, although avoiding gum prevents damage.
How long do permanent dentures last? Even though they're considered permanent, we recommend replacing dentures every five to ten years due to gradual gum tissue and bone changes.
What is the process of getting permanent dentures? Standard preparation for getting permanent dentures involves setting up an appointment for an oral exam, followed by scanning the jawbone for strategizing implant placements, follow-up visits for making teeth the right size and shape and wax fittings before denture application.
We're Ready to Provide You with Comfortable Dental Care